The bouquet toss event is often one of the most awaited during weddings; though it can also be the most dreaded part as many girls don't wish to participate. After all, the one who will catch the bouquet is supposed to get married next – and that could either be really good or really bad for the ladies in that wedding!
There are two extremes during the bouquet toss. Either all the ladies try hard to take that bouquet at all costs or they all try their best to run away from the bouquet as soon as the bride tosses it up in the air!
But for Tiffany Walker who was feeling so competitive at her sister's wedding, she leaped so high up in the air that her photo quickly went viral. By morning, her impressive bouquet catch was all over the news – even while she was still asleep!
Tiffany revealed that she doesn't really join bouquet toss events. In fact, she often makes it a point to avoid being called for the event. But she had a change of heart at her sister's wedding – when all the other ladies also wanted to catch the bouquet! Uh-oh.
"Everybody was like, 'No, you can't participate' because they know how athletic I am. They were like, 'You have an unfair advantage.' And I'm like, 'No, I'm going to participate this time. This is my sister's wedding!" she narrated.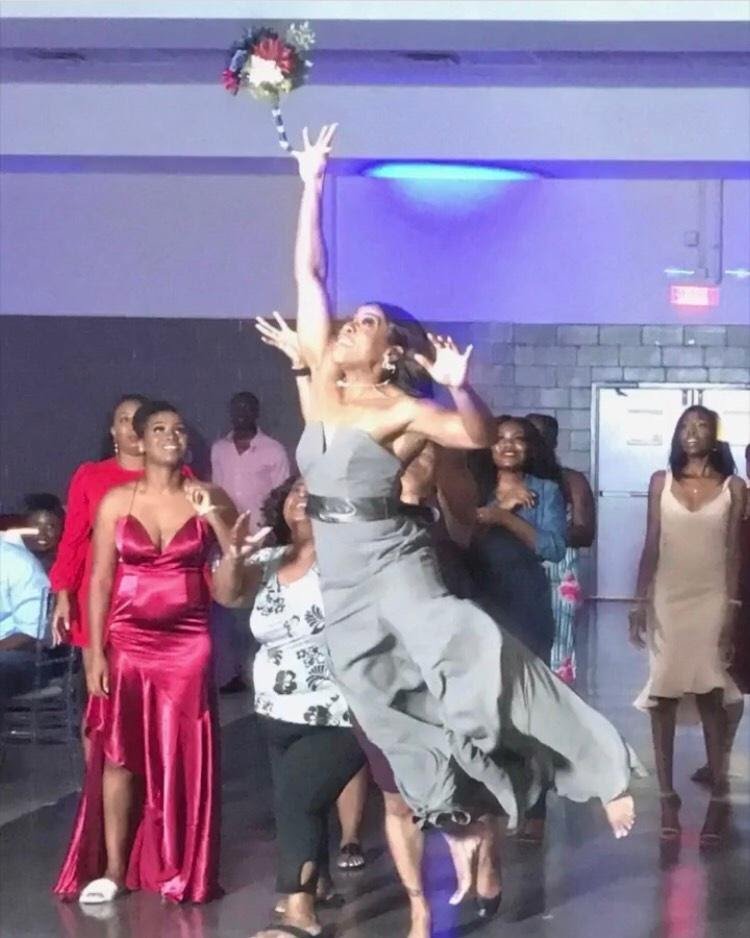 Photo credit: Tiffany Walker / Madame Noire
Everyone wanted her at the side, but when her sister threw the bouquet high up in the air, Tiffany leaped so high that everyone was pretty impressed! All the other girls didn't even stand a chance as she made a mad dashing leap for the bouquet.
Standing at just 5'2", the high leap was truly amazing. They slept late that night, but Tiffany awoke to news that she was on ESPN. She thought her family was pranking her was but surprised to see that she really was all over the news! Good job, Tiffany!
Meaning of Bouquet Toss at Weddings
Throwing the bouquet is a well-known tradition at weddings. Unmarried ladies line up and try to catch the bride's bouquet. It is believed that the bride's bouquet will bring whoever catches it luck so that she'll be the next one to get married.