When bride-to-be Deanna Adams was planning her wedding, she decided not to put pressure on herself or anyone else on her Big Day. So, she told everyone that they could wear anything they wanted to use to the event.
But her prankster sister decided to take the instructions just a little too literally when she decided to wear a T-Rex costume to Deanna's wedding.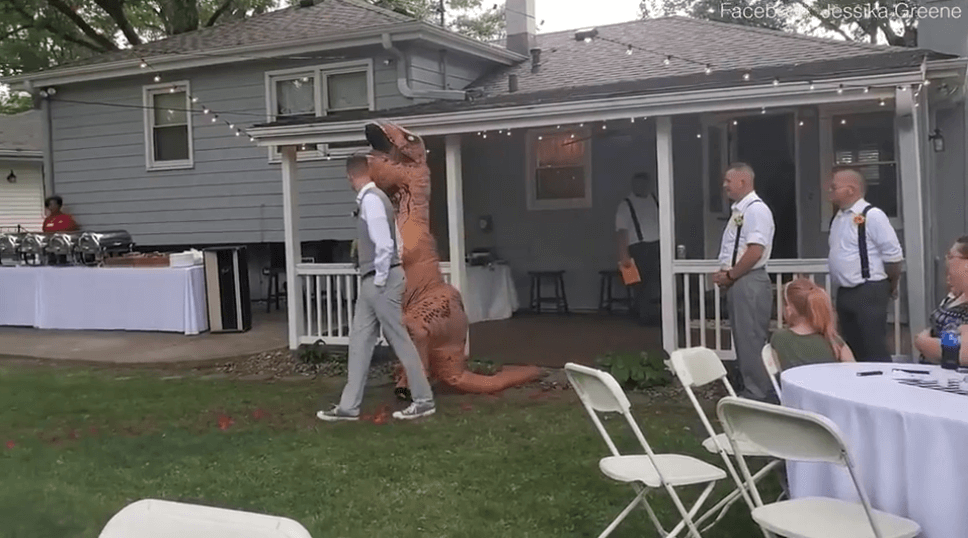 Photo credit: Christina Meador / LAD Bible
Putting hilarity into the "anything you want" instruction on the dress code, 38-year-old Christina Meador told her sister she would wear a T-Rex costume to the wedding. Expecting Deanna to protest the choice, Christina was rather surprised that her sister actually approved her costume choice.
Based in Texas, Christina repeatedly joked about bringing a T-Rex costume all the way to Nebraska for the wedding – and never once did she hear Deanna tell her it was a bad idea. She even joked about wearing other off-the-wall costumes like a Doctor Who TARDIS (telephone booth-like 'time machine') or something other hilarious costume.
Photo credit: Christina Meador / LAD Bible
Days before the wedding, Christina arrived in Nebraska with the T-Rex costume. After she showed it off to Deanna, she assumed her sister would now tell her to find another dress, but the bride-to-be never did. So, she decided that she would really wear the costume to the wedding.
One could just imagine the laughter as the T-Rex lumbered into the wedding party in Christina's place. As maid of honor, the T-Rex moved around to assist her sister awkwardly in that costume, drawing laughter from the guests but leaving the best man a bit mortified. LOL.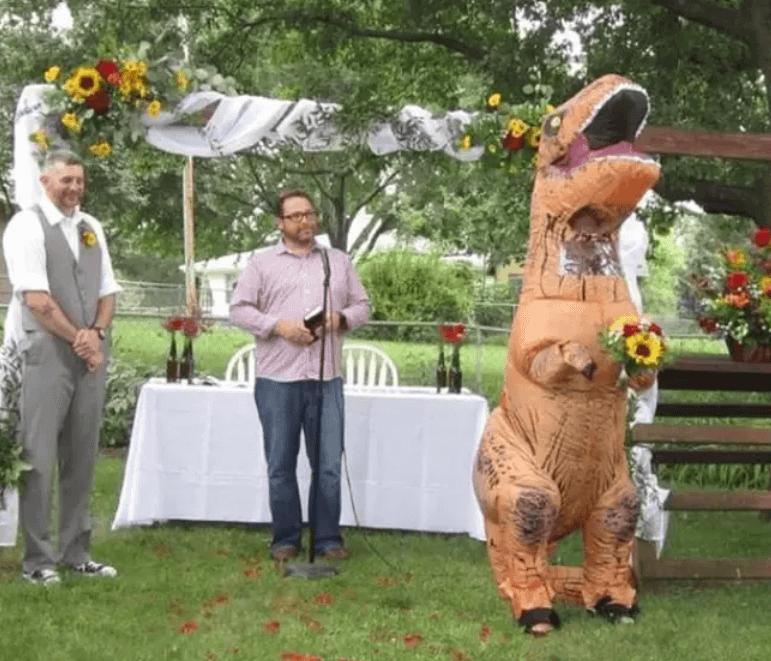 Photo credit: Christina Meador / LAD Bible
The wedding photos looked like a joke, but Deanna actually enjoyed the prank. It was actually the bride who shared the photos, with her sister's permission. Luckily, Christina didn't go T-Rex on Deanna sharing the photos – and might have even enjoyed the attention; though her face can't be seen in the costume.
While there were netizens who blasted Christina for being 'selfish', Deanna defended her sister and said that it was exactly what she wanted – that her wedding guests will dress up in any way they wanted and feel good during her wedding.
Here's how Christina looks when she's not a T-Rex:
Photo credit: Christina Meador / LAD Bible
What's a T-Rex?
The T-Rex is one of the most famous dinosaurs. Scientists tout this dinosaur as the most fearsome creature of its time; though it was not the biggest predator during the time of the dinosaurs.