From flash mobs to skywriting, we have seen so many creatively executed marriage proposals. They can be as simple as one man dropping on his knees and popping the question to an elaborately-planned one which involved a lot of people, coordination, timing, and sometimes, even a script. No matter how complicated each proposal was, they only show how strong the love between the couple.
On April 1, the Barneveld Fire Department held a special training exercise. It was the usual firefighting drill—with every firefighter involved wearing full uniforms complete with masks.
But it turned out that the special training exercise is actually an elaborate setup for a marriage proposal from Lieutenant Kelby Ueltschi to his girlfriend, who is also a firefighter involved in the training exercise, Becca Pelletier.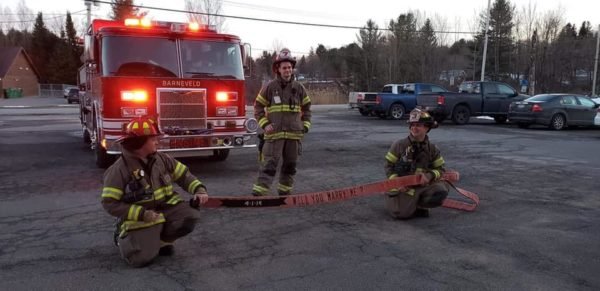 Photo credit: Facebook/Barneveld Fire Department
The awe-inspiring marriage proposal was caught on video which the Barneveld Fire Department posted on their Facebook page.
The clip, which ran for 45 seconds, shows Becca finishing her mask confidence training. After getting up from the ground, Becca took her things and walks forward. As she does, she stops for a while and dropped to the ground once more.
The video spans to what Becca saw and it revealed three firefighters on their bended knees. Two of them were holding what seems to be a fire hose with a message written on it that says, 'Will you marry me?'.
The third firefighter on his knee is Lieutenant Kelby who popped the question.
Becca said yes and no one could be happier than the entire Barneveld Fire Department.
Viral Post
According to their Facebook post, the fire department is like a big family and they were excited that they could assist with the proposal.
They also congratulated the couple for their engagement and sent their best wishes through the said post.
The said post of the video clip has been viewed more than 132,000 times and been shared 409 times.
Last night on 4/1/19 at our weekly training, we held a special drill to help one of our members out. While participating in mask confidence training their was a special surprise for Firefighter/EMT Becca Pelletier. Our fire department is like a big family and we were excited that we could assist with the proposal. Congratulations and Best wishes to Becca and Lieutenant Kelby Ueltschi.

Posted by Barneveld Fire Department on Tuesday, April 2, 2019