A wedding is a once-in-a-lifetime event. It is just fit that a couple would live out their fantasies and turn such event into something extraordinary.
Just like this couple who went for a rock 'n' roll-inspired wedding instead of a typical white wedding.
The couple, Claire and Joe got married in a ceremony held at the Little White Chapel in Las Vegas which was followed by an all-night party.
Photo credit: Metro
Staying true to the black-themed wedding, Claire, the bride, arrived in a Vera Wang-designed black outfit with a quaffed pink hairdo.
A skeleton-inspired cake accentuated the wedding.
The couple also got a matching tattoo and took wedding photos in front of the Las Vegas sign. They also had dinner at the Peppermill, drinks at ReBar, and finished the night with karaoke at a local bar called Dinos.
Photo credit: Metro
Claire said that she has always wanted to get married in Vegas and to wear a black Vera Wang dress. Though the wedding exudes the feeling of elopement, the couple had 40 friends and family, as wedding guests. She said that the marriage was not very traditional but very real to them.
The new bride said that they hired a party bus that transported everyone from one place to another.
The party was such a blast that one of the wedding guests got carried away and broke a leg.
The only regret they had is that they wish they were able to hire a videographer and that they should have gone straight off on honeymoon right away.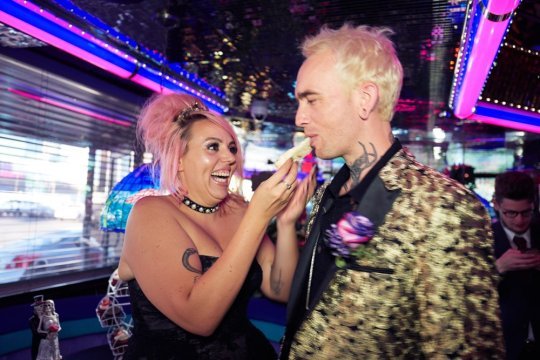 Photo credit: Metro
'Do what you want'
As for her advice to other couples, Claire said that they should do what they want—exactly the way they want it.
She also added that they should not cave into other people's demands on their day, as curating the day that is all about you is the best feeling.